The DIAL Mid-term Conference will be held at University of Turku, Finland.
Publicum Building
Assistentinkatu 7.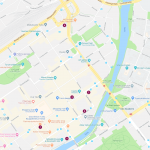 Open map in Google Maps
VENUE
The meeting venue, University of Turku is located within a 10-minute walk from the city centre of Turku, address: Publicum Buidling, Assistentinkatu 7.
Turku is located on the south-western coast of Finland, 160 km west off Helsinki. You can reach Turku by air, sea, road and rail.
Turku Airport is located approx. 7 kms from the centre of Turku (flights to Gdansk, Riga, Stockholm and Helsinki).
If you fly to Turku, there is a regular bus to city center from the airport (distance approx. 8 km), bus line no 1 which runs about every 20 minutes. Tickets à 3 euro can be bought from the driver (cash, preferably coins). A taxi ride to the center of Turku will cost around 20 euros. All taxis accept credit/debit cards. To call a taxi in Turku, please dial +358 2 10041 (Taxidata)
Flight Connections:
From Helsinki-Vantaa Airport
Railway
Bus
You can use bus number 1 to reach Turku city center from Airport. Use this link to check out the timetables.
Accommodation
We have made block reservations Hotel Scandic Julia and Original Sokos Hotel Wiklund for 6th-8th of June.
Standard room for 1 person 115€/night
Standard room for 2 persons 135€/night
Standard room for 1 person 118€/night
Satdard room for 2 persons 128€/night
Other hotels in Turku
Radisson Blu Marina Palace Hotel
If you want to know more about Turku visit official Turku Tourist Page.